Youngstown State University's Ads Club, a collegiate chapter of the American Advertising Federation, took third place and received a "Best Media Plan" award at the 2017 National Student Advertising, District 5 Regional Competition.
This year's team was the first in the club's history to place at the regional contest. John Green, Abby Harris, Jake Cole and Adam Nye were the team presenters; club advisors are Michael Pontikos, instructor of Marketing, and Rich Helfrich, assistant professor, Art.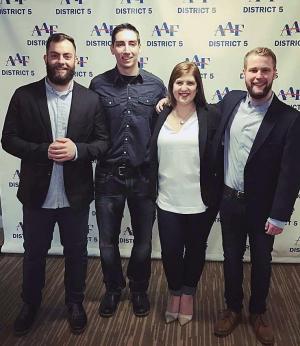 "This is what it's all about. I couldn't have asked for a better way to end my college career," said Green, Ads Club president. "This competition is as close to a real world advertising pitch as it is going to get!"
Harris, a senior Communication major and Advertising minor, said the team narrowly missed placing among the top three in their last two attempts, and members were determined to do better this time around. "That was the driving force behind bringing home the hardware this year," she said.
Other Ads Club members that participated in the competition are:  Natalie Agnone, Bailey Brown, Kellie Daley, Kristen Day, Anna Henkels, Ray Klempay, Emily Lampe, Lexi Marucci, Alexa Morocco, Nikki Pilolli, Doori Song and Themelina Xenikis.
The team won its "Best Media Plan" award based upon the in-depth strategy and analysis of media platforms it developed for this year's client, Taipei Frozen foods. Team members representing a range of majors, from communication to advertising to accounting, worked since fall semester to develop a comprehensive 27-page campaign book and a 20-minute presentation on the plan.
The NSAC competitions, considered the premier college advertising contests, provide more than 2,000 college students with the real-world experience of creating a strategic advertising, marketing and media campaign for a corporate client. The District 5 contest was April 7-8 in Lexington, Ky.